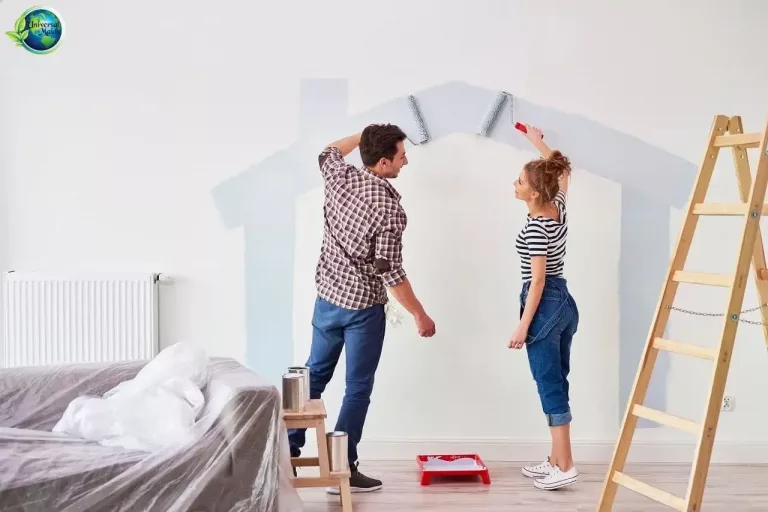 When you live in a house where builders are working, you know how destructive construction can be. Dust and dirt are inevitable, even when everything goes according to plan and your contractors are as tidy as possible.
With post-construction cleaning comes specialized cleaning requirements.
If not cleaned properly, brick and drywall dust can damage your home, and some construction debris can be hazardous to you and your family's health.
Construction cleanup is one of the main specialties of Universal Maids. We have cleaning hacks that can help get your house back in order, whether you just finished remodeling, are on the other end of an insurance claim, or got carried away with the DIY.
Post-construction Cleaning Hacks
With our post renovation cleaning tips, you can get your place looking new and shiny in just a day or two. Here are some cleaning hacks to get you started.
Clean high before you clean low
Dust isn't just found on floors and countertops. Ceiling fans, overhead lighting fixtures, shelves, and other features close to the ceiling don't get cleaned as often. And once they do get cleaned, they tend to scatter dirt and dust. As cleaning these high-up features will inevitably lead to the area below them getting slightly dirty as well, start at the top of each room in your post-renovation cleaning and work your way down.
Cleaning hack:
Ceiling fan blades are notorious for causing dust to fall from the ceiling. Put an old pillowcase over each blade and wipe away from the fixture's center using the pillow case's top layer to minimize collateral damage. Fortunately, most of the dust will collect in the case, which you can simply clean or toss when you're done.
If you're cleaning after a move, start with the fridge
While you get everything cleaned, you can put off some things, but storing your perishable food should not be one of them. Start by sanitizing your new refrigerator before you do anything else. As there are no foods in it, it shouldn't take more than 20 minutes. You can clean the shelves and drawers individually with soap and warm water if you can remove them.
Cleaning hack:
If you have stuck-on fridge grime, boil some water and pour it over it. As soon as the water is cool enough to touch, scrub deeply using your hands. This should remove the gunk.
Clean the rest of the kitchen
As soon as the fridge is clean, you can move on to the rest of the kitchen. Begin by cleaning the lighting fixtures, the ceiling corners, and the doors of the cabinets. Then clean the kitchen appliances: oven, stovetop, dishwasher, microwave, and sink, and clean the countertops. Next, clean the inside and outside cabinets, paying particular attention to their handles. Don't do the floor yet.
Cleaning hack:
Baking soda and hydrogen peroxide make an effective cleaning solution for stubborn stovetop stains. Mix baking soda with hydrogen peroxide in a small bowl. Let it sit over the stove for 15 minutes and then scrub it.
Onto the bathrooms
Bathroom cleaning involves both disinfecting and cleaning up the surfaces. For the initial scrub-down, Blue Dawn dish soap and a sponge are ideal but follow up with an antibacterial spray to kill any lingering bacteria. For toilet seats, simply replace them. It is a small expense and the most effective way to ensure they are spotless.
Don't forget to clean the unexpected areas you might overlook during a normal bathroom cleaning. Also, make sure to clean and sanitize your toilet paper holder, faucets, light switches, and door handles.
Cleaning hack:
Stains caused by hard water can be challenging to remove from metal hardware like faucets and showerheads. Make the process easier by rubbing lemon juice on them. The acid breaks down hard water stains and polishes metal surfaces.
Tackle the rest of the space
Clean each item individually, rather than room by room, for the rest of the process. Starting with the ceiling, you'll want to work your way from the top down. Don't overlook easily overlooked surfaces, such as the windows and window treatments, tops of doors, closet interiors, and light switches. The dirt and dust in most of these areas can be picked up with a vacuum attachment, which you can follow up with clean damp rags.
Cleaning hack:
Don't wash your windows when the sun is high in the sky because the glare will make it challenging to see grime and streaks. It would be best if you waited until evening to wash your windows, or at least start with shady windows.
Finish with the floors
You began at the top, so finish at the bottom. Use a vacuum attachment on wood, tile, and linoleum floors to clean the corners and edges and sweep up any remaining debris. If your vacuum is not specifically designed to do this, don't vacuum the entire surface. Finally, mop the floor, making sure to use a safe product for the surface.
If you want to clean your carpet really well, you should use a steam cleaner. If you don't own one, hire professional cleaning services to do it for you. Even though vacuuming alone may make the carpet look cleaner, it won't remove allergens or improve the air quality.
Cleaning hack:
Mix equal parts of water and bleach in a bowl and use a toothbrush to scrub stained grout. Wait an hour or so, then scrub clean.
Should you hire a professional post-construction cleaning company?
Homeowners and property managers often underestimate the cost of hiring post-construction cleaning services when they undertake construction work. Even though doing the cleaning yourself and saving money is a great incentive to get your hands dirty, there are several reasons to hire a professional.
Safety
Post-construction cleaners are familiar with the dangers of cleaning after a contractor has been in an area.
Skills
Even though anyone can clean, construction cleaning services are more efficient and effective because they have been trained in the best techniques and equipment to use on every type of surface and stain.
Equipment
If you don't want to damage your vacuum cleaner, you should rent professional equipment, but the cost can quickly add up.
Budget
Doing a post-construction cleaning yourself might seem like it will save you money, but is it? Rental equipment, cleaning supplies, and trash disposal can add up quickly. Professional cleaning services come at a fixed price, so your budget is secure.
No matter how large your house is, the final step is the most challenging – the final cleanup. We offer post-construction cleaning services in and near Melville, NY. So give us a call and get your free quote!