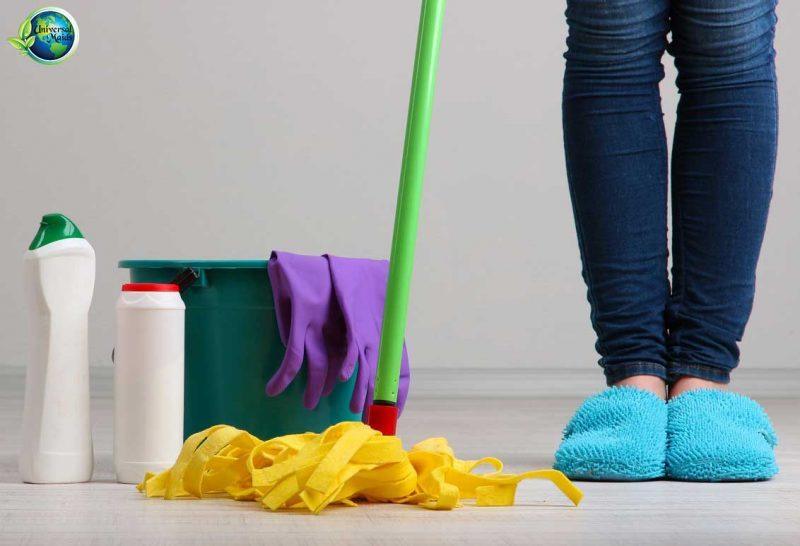 Every homeowner wants to maintain a neat and tidy atmosphere for safe family living. If there are food crumbs on the surface, you will see it quickly and clean it before it attracts insects and pests. You will know when a rug or towel is dirty and give it a proper cleaning. Apart from what is obvious, there are some areas and surfaces where bacteria and harmful germs remain hidden. Though such spaces don't look dirty in particular, they pose health risks for the family. That is why it is extremely important to watch out for these dirty areas and give them proper cleaning and disinfecting to create a safe and healthy home environment.
Given below are some of the dirtiest places that you need to thoroughly clean on a regular basis to stay safe and healthy.
Kitchen
The kitchen is not just the busiest place in a room, but also the dirtiest. It is not just the stove and the fridge that need proper cleaning. In fact, all the surfaces that you use for cutting vegetables and meat and food preparation need thorough cleaning on a frequent basis. The atmosphere inside the kitchen supports the growth of different kinds of germs and bacteria. It is, therefore, extremely important to pay close attention to every area and surface and clean them properly.
Think about the kitchen counter. This is the surface where you place raw meat, food bags and unwashed vegetables. You never know what type of harmful germs these products can bring to your kitchen. In fact, it is possible that bacteria can transfer from one food item to another via the contaminated counters. The kitchen sink is another area where bacteria grows. While preparing food items to cook, you also touch multiple surfaces in the kitchen. All of these activities together make the kitchen one of the dirtiest places in the house. Even if such areas don't particularly look like they are dirty, they actually are. Whether it is the kitchen counters, small appliances, the knobs and handles or the sink, you should thoroughly clean them and disinfect them to create a safe and healthy environment.
Bathroom
It makes us feel good after we have taken a shower. However, we leave a lot of soap scum, dirt and grime after we come out of the bathroom. If proper cleaning is ignored, these can create health risks.
Even though you can't actually see the dirt, the bathroom has bacteria lingering inside it on the surfaces and walls. You need to pay close attention to each item in the bathroom including the bathtubs, showers, bath towels, mats and the bathroom sink. Use a bathroom cleaner to properly clean the bathtub and the showers. You'll definitely need to do some scrubbing for a thorough clean. If there are tough stains in the bathroom, they will not go away with a bathroom cleaner. So, you will need to use a bleach to remove the stubborn stains.
After you are done cleaning each item in the bathroom, you should also remember to disinfect the most susceptible areas.
Bedroom
The bedroom is the space where you have a restful sleep after a hard day's work. It should remain neat and tidy at all times.
While you may not be aware, the mattresses and quilts in your bedroom can harbor different types of insects and harmful germs. While other areas in the bedroom may look clean, it is the bedding which is mostly the culprit. You socialize and sleep on the bed. After all these activities, the blankets, the mattresses and the quilts require proper cleaning. Make sure you keep each item of the bedding neat and tidy to avoid skin allergies and infections.
Stair Railing
Have you ever given any thought to the stair railing in the family room? It is one of the most frequently touched surfaces.
A high touch surface needs thorough cleaning on a regular basis. Just imagine how many times the stair railings are touched by those who use it. If you have friends and visitors at home, the number of hands that touch the railing increases. As a result of this, the stair railings become the carriers of different types of harmful bacteria and germs such as E. coli and staph. If you plan to live safe and healthy, you must include these in your home cleaning checklist.
Keyboards and Remote Controls
During a home cleaning task, homeowners often don't give high touch spots proper cleaning or ignore them altogether. Computer keyboards and TV and A/C remote controls are ideal examples of such spots. 
Keyboards and remote controls are frequently used and touched by all members of the family as well as friends who visit. These items contain dirt, dust, gunk and hair trapped inside them. In fact, these are some of the dirtiest spots in a home. While you go on a cleaning spree in the house, do not forget to give the keyboards, remote controls and other high touch items a proper clean. Before you start to vacuum the keyboard, make sure you disconnect it from the computer. Use a mixture of water and scrubbing alcohol to wipe and clean such items.

Pet Toys
Just like everyone else in the home, your lovely pooch also deserves proper care and cleaning. Whether it is the pet toys of the feeding bowl, these items should be washed and cleaned on a regular basis.
Pup toys remain loaded with harmful germs and bacteria. If you do not rinse and wash them well regularly, your pet as well as the family will be susceptible to different kinds of allergies and infections. To clean the hard toys, you should use a solution of soap and hot water. If the toys are soft, give them a hand-wash or throw them in the washer for a thorough clean. Likewise, give proper cleaning to the feeding bowls as well. Empty the bowls of its content completely before running them through the dishwasher. In case you end up damaging any of the pet toys while cleaning, buy your pup some new toys to play and have fun with.
Hire Trained Maids for Proper Home Cleaning
Healthy and safe family living requires effort. Now that you are fully aware of some of the dirtiest places and spots in your home, you should add all these items to your home cleaning list. Of course, you are going to need to spend time and energy on cleaning all the high touch surfaces and items in every room of your house. If you think it is a lot to deal with on your own, you should turn to professionals such as highly trained maids and house cleaners from Universal Maids. 
We offer professional house cleaning for all sizes of homes and apartments in and near Melville, NY. You can reach out to us via a phone call or write us an email using the contact form on our website.