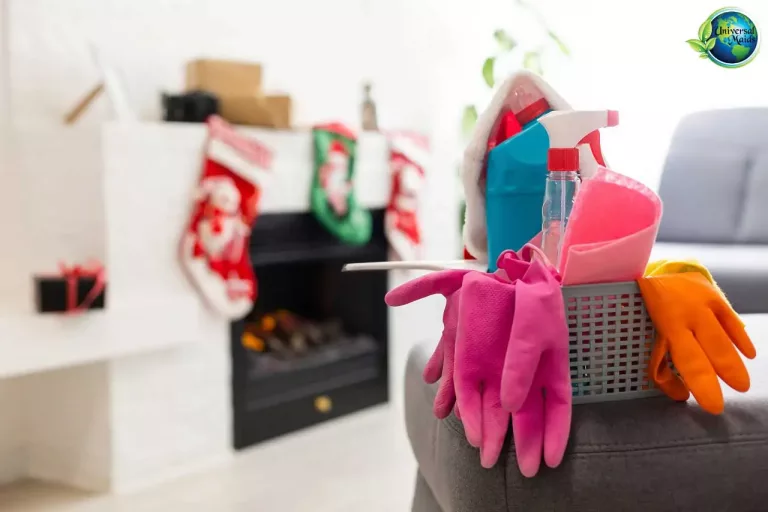 Clean your home and get a head start on the New Year! After the holidays have passed, there's a lot to do, right? Since there are many things to do this time of the year, you might forget about something and leave it uncleaned. Of course, you can always ask for professional cleaning services to help you.
But even if you've decided to tackle this on your own, there's no need to worry! Because we've got you covered with our new year's home cleaning tips:
Step 1: Remove your holiday decorations and assess your storage space
Taking down the decorations and tidying up the rooms is the first step to freshening up your home after the holidays:
Pack up your holiday décor. Make sure to seal the storage containers well so that dust, moisture, and dirt cannot enter.

Tidy up your storage spaces by removing everything from the places where you store your holiday decor. Look 

especially

 for any signs of damage or pests, clean the area thoroughly, and let it air out. Sort through your belongings and assess the actual value of each one before putting it back in storage. If there is anything you don't need or like anymore, this is the perfect time to get rid of it;

Give every new item a proper place. Sort out all the gifts you and your family received over the holidays, and place them where they belong: closets, bookshelves, toy chests, etc. As you arrange your new gifts, take a close look at your old items. Put aside all the clothes, toys, shoes, accessories, electronics, and books that you and your family haven't used in the past year. Donate them to a charity or give them to friends or relatives who may need them. The important thing is to declutter your home and keep it tidy.

Deep clean your storage area. Clean all surfaces with an old soap-and-water solution or use an all-purpose cleaner to make them clean and spotless;

Only keep items that have a high practical, aesthetic, or sentimental value. Get rid of damaged items and items that are no longer useful, donate the ones you no longer need and do your best to keep your home clutter-free in the new year.
After all your new year items are arranged, take the trash out, dust the shelves, and vacuum your floors. Now you're ready to get on with your New Year cleaning immediately.
Step 2: Clean the Bathroom
The holidays are the busiest time of the year for bathrooms, so it might be necessary to give your shower and tub extra attention:
Disinfect and sanitize the toilet and the bathtub. Clean the surfaces with a bleach solution, rinse them with warm water, and let them air dry;

Wipe the surfaces with a solution of vinegar and dish soap to sanitize the sink and countertops and rinse them with clean water;

Clean the bathroom tiles. Apply a solution of white vinegar and water to the tiles, scrub them with a toothbrush and rinse them well;

Wash and launder the shower blinds and the bathroom rugs;

Organize your bathroom cabinets. Get rid of dried-out cosmetic products, expired medicines, and those with no labels. Before putting the remaining items inside the cupboards, wipe down the shelves and drawers. Finally, clean the cabinets inside and out.
Step 3: Clean the Kitchen
The kitchen is often the busiest (and messiest) room in a house during the holiday season. Yours was probably no exception, so now it needs a really thorough cleaning. The comfort you get from living in a clean and tidy home will help you keep your new year's resolutions. 
Fridge: Get rid of leftovers from the holidays and old food you haven't used in the past month. Clean the shelves and door racks with an all-purpose cleaner and paper towels. The vegetable bins need to be washed and air-dried before being put back into place;

Oven: Deep clean the oven with a suitable cleaner and wipe it with a damp cloth after about 12 hours. Then spray areas that are difficult to clean. Don't forget to clean and shine the oven glass; 

Microwave: Put several drops of lemon juice (or a slice of lemon) in a bowl of water and heat it for several minutes. After removing the bowl, use a sponge or microfiber cloth to wipe the microwave interior;

Sink and countertops: Wipe down the countertops with a microfiber cloth dipped in soapy water, flush the drain, and scrub the faucets;

Cabinets and drawers: Remove all the items and clean the drawers and cabinets with dish soap and water. Don't forget to wipe down the hardware and inside edges of the doors too;

Pantry and storage cupboard: Get rid of expired grains, spices, canned goods, and other old food items, and give the cabinets a thorough cleaning.
Step 4: Keep the house in order
Now that you've taken care of your home's messiest areas take your new year home cleaning one step further and clean up your entire home.
Clean your furniture. Dust surfaces, spray the upholstery with a fabric refresher and wash throw pillows and furniture covers if necessary. Don't forget the glass surfaces in your home, including showcases, glass tabletops, mirrors, cabinet doors;

Tidy up the guest rooms. Make sure the mattresses are aired out, the linens are folded, and that everything is returned to its proper place;

Clean rugs and carpets. Your carpets are very likely to become dirty and stained after the holidays. If you want to keep your carpets in excellent condition, you should steam clean the entire rug or call a home cleaning service and leave it to professionals. You should not wash area rugs during the winter. They will dry faster if washed on sunny days;

Take care of the HVAC system. Ensure that your HVAC system has a clean air filter and replace it if necessary. Clean the air conditioning vents – take them off the wall, soak them in hot water with a few drops of dish soap, let them be there for a few minutes, wipe them with a large cloth, dry them and place them back on the wall.