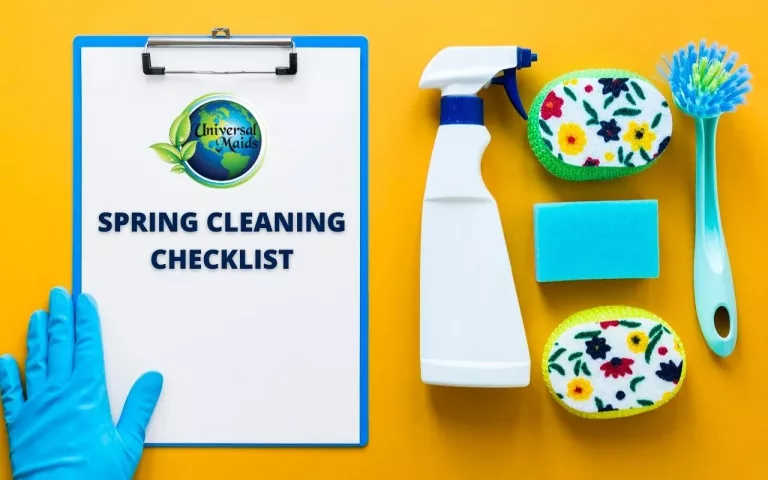 The new year is right around the corner, and it's time to clean out the clutter, grime, and dust bunnies that have been breeding in our homes throughout the year and clean our homes for the spring and summer that is coming all too quickly.
Spring cleaning your home can be overwhelming, but these checklists will help you go room-by-room so you wouldn't overlook any important step.
Here is the spring cleaning checklist:
Take care of every room in your house – from the entryway, bedrooms, kitchen, bathrooms, to the living room and the laundry room.
Entryway 
Your front entryway is the first thing visitors see when they arrive at your home.It might also be the main entrance for your whole family. Imagine coming home every day to an uncluttered, beautiful home. Besides, you want your guests to feel welcomed, not overwhelmed, so cleaning the entryway is essential! When cleaning your entryway, you should perform the following tasks:
Empty the entryway

Remove mud or excessive dirt from shoes.

Don't forget to straighten your shoes, and if you don't have a shoe rack, get one!

Clean up the dust and dirt from shelves, hooks

Mop the floor

Wash windows and doors

Kill the germs
Kitchen 
Kitchens get messy, then cleaned up multiple times a day, but spring cleaning is an excellent excuse to deep clean clogged drains, grease-covered range hoods, the insides of major appliances, and the outsides of small ones. Here we explain how to clean and disinfect the kitchen and offer many quick cleaning methods. Start with a usual everyday cleaning and then do a deeper dive to clean the kitchen thoroughly. Here are some of the tasks you should do when cleaning your kitchen:
Spot-clean the kitchen walls

Clean the kitchen floor

Clean stove hood and replace the filter

Wipe down the cabinets and dust underside of upper cabinets

Empty the cabinets and kitchen drawers, then wipe down the insides of them

Clean anything that sits on your countertops, like baskets and fruit bowls, thoroughly 

Clean the oven, empty its drawer and wipe down the inside

Wipe down outside of the refrigerator

Clean small appliances – coffee maker, Keurig, stand mixer, blender, etc

Empty everything in your refrigerator and freezer

Spray the faucet and basin with cleaner

Use vinegar to clean the sink, drain, and garbage disposal

Clean and disinfect trash can and recycling bin
Living Room 
We tend to spend most of our time together in this room. We relax here, as it has the most comfortable furniture and a television. It's also the room we use to entertain our guests. We clean the living room frequently, but how often do we deep clean?
Don't forget these important tasks when cleaning your living room:
Dust and polish wood furniture

Empty shelves and cabinets; wipe down interiors and what's inside.

Dust flat surfaces and décor

Remove couch and chair cushions, and vacuum if possible.

Clean the fireplace

Vacuum the chairs and sofa

Sanitize remote controllers

Vacuum the carpets to remove dust and dirt, don't forget underneath the furniture
Bathroom 
Cleaning the bathroom is probably one of the least glamorous tasks one can perform. No one can say that it's one of their favorite activities. While most would say that the kitchen is the most used room in the house, the john is definitely the most abused room in the house. When cleaning your bathroom, make sure to attend to the following tasks:
Remove all items from the bathroom counter and shelves

Clean gaps between wall, backsplash, counter

Sanitize sink, drain, and faucet

Wipe down outside of the toilet

Clean inside of toilet bowl (Don't forget to scrub under the rim)

Clean behind toilet

Sanitize the bathtub/shower

Disinfect and descale shower head and tub faucet

Clean floor, don't forget the gaps between shower/tub and floor, vanity and floor, and deep corners

Disinfect the trash can

Clean the mirror
Bedroom 
Having a messy bedroom can add to daily stress, cause anxiety, and even affect your sleep. On the other hand, a clean, organized sleeping space can encourage relaxation and restfulness while you're lying in bed at night. You and your family spend many hours each day in your bedrooms, so you should not rush through the cleaning process. When cleaning your bedroom, make sure to do the following tasks:
Remove and wash all bed linens.

Vacuum the mattress

Remove stains and freshen the mattress

Wash or vacuum the curtains

Wipe down ceiling fan blades and light fixtures

Remove unwanted clothes and other items

Dust/vacuum/cleanout under bed

Wipe down outside of furniture (dressers, nightstands, etc.)

Wipe down closet shelves

Vacuum in closet
Office 
The home office can sometimes feel like a second home, which is probably why it's a common residence for dust and germs. With all those long hours and all-nighters, keyboards, file cabinets, and printers can get extremely dirty. To spring clean up your home office, make sure to complete the following tasks:
Sort your paperwork and decide what to keep, what to toss

Sanitize your phone, laptop, earbuds, headphones, and mouse

Dust all the screens

Remove objects from your desk, spray and wipe it down

Dust any lamps, shelves, framed art, or other decorative objects

Spray windows with cleaner and wipe 

Clean curtains and blinds

Clean light switches and plates

Vacuum or sweep hardwood floors

Vacuum carpets
Laundry Room 
Considering that the laundry room is the center for cleaning, it's no wonder it gets filthy over time. There is a lot of dirt left behind when dirty clothes, sports jerseys, and cleaning rags arrive for their makeover. Most people don't clean this room as often as they clean other parts of their homes, but springtime cleaning is when you can give your laundry room your full attention. You can do spring clean the laundry room by performing the following tasks:
Wipe down washer and dryer

Clean soap and fabric softener dispensers

Wash sink and countertops

Disinfect knobs, dials, and buttons

Clear the lint filter

Vacuum lint trap

Mop the floor, and don't forget under the washer and drier

Empty the trash.
These checklists can help you and your family enjoy a more sanitary, organized, and hospitable environment in the months ahead. But keep in mind that you may need more than one weekend to thoroughly deep clean your home. So asking for a professional cleaning service to do the job would not be a bad idea and could save you time and money.
At Universal Maids, we provide high-quality spring cleaning services in Melville, NY, for homes and offices. So if you want your home to be spotless, contact Universal Maids, trusted throughout Nassau County, Suffolk County, and nearby Long Island, New York communities.